LANGUAGES AS MIGRATORY OBJECTS
within the framework of The New Patrons program
PATRONS
teachers of literature and languages, students, language scientist
ARTS OUTREACH – PRODUCTION
thankyouforcoming, member of the "Société Nouveaux commanditaires Arts & Sciences"
PROJECT DEFINITION PHASE
constitution of the patrons' group, writing of the commission, choice of the artist with the mediator June 2019 - February 2020
RESEARCH PHASE
experimental workshops and conversations, realizations of art works March 2020 - March 2021
REALIZATION PHASE
realization of the protocol art piece in response to the commission, realization of the film September 2021 - April 2022
SITE
Marseilles – Bouches-du-Rhône
collège Vieux Port, lycée Victor Hugo, lycée professionnel René Caillié
SUPPORTS AND PARTNERS
A project supported by the Fondation de France, the Fondation Daniel et Nina Carasso, the Fondation des Artistes, in partnership with the FRAC Provence-Alpes-Côte d'Azur and the Académie d'Aix-Marseilles.
With the support of the Academician Mrs. Barbara Cassin and the Academic Inspector Mrs. Odile Aubert.
Les "Nouveaux commanditaires" (The New Patrons) is a project that the Fondation de France has been delivering since the 1990s. People wrestling with issues of society and land development are given the chance to share their concerns with contemporary artists by commissioning works. The originality of the scheme lies in the intersection of three groups of participants who are supported by the public and private partners: artists, ordinary people who commission works, and cultural mediators approved by the Fondation de France.Read more.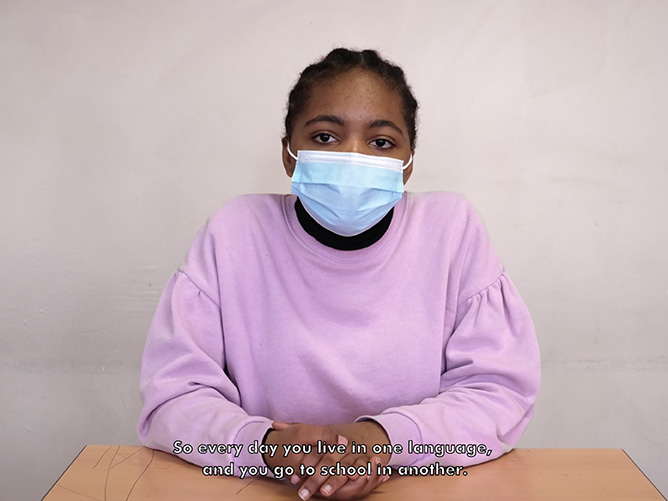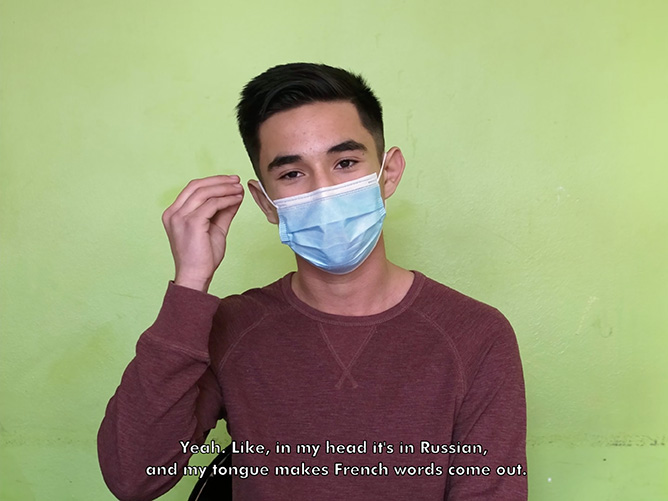 AN EYE ON YOUR TONGUE
2022
film essay, 4/3 size
digital video in color, stereo sound
46mins 38sec
directed by Marianne Mispelaëre
edited Émilien Awada
photography and studio by Guillaume Loiseau, Marianne Mispelaëre, Trécy Afonso
sound editing and mixing by Stéphane Rives
calibration by Alexandre Lelaure
English translation by Daniel Levin Becker
The film "Un oeil sur ta langue" (An eye on your tongue) gathers observations around a central question: what does it mean, today, to study in a French public school as a polyglot teenager and/or living in a multicultural environment? From 2020 to 2022, Marianne Mispelaëre worked side by side with fifteen classes in Marseilles. The conversations led them to question together exile and transmission, history, creolization, the concept of identity, through the prism of the language practices of the teenagers – if most of them were born in France, many are polyglot; others, allophones, appropriate the French language. The film is the result of these encounters and this context. The voice is given to students who are rarely invited to speak. Together, they create the narrative from their own experiences and subjective points of view. The words soothes lived realities, not by solving the problems raised, but by opening up questions, by making certainties plural, identities liquid, by activating history and by deconstructing the mechanisms of the "national identity" myth. Children are messengers, attentive observers of the tensions, embarrassments and multiple translations that run through their daily live and, through them, society. A film without adults, without counter-fields. An eye that listens and fixes the voice.